PT Profile – Erica O'Keefe, DPT, OCS
Happy National Physical Therapy Month! All October long, we're getting to know our Advanced Physical Therapy physical therapists, who they are, why they became PT's, and what they love most about practicing Physical Therapy and more. First up is Erica O'Keefe, the newest member of the Advanced Physical Therapy Wolcott team.
What made you decide to become a physical therapist?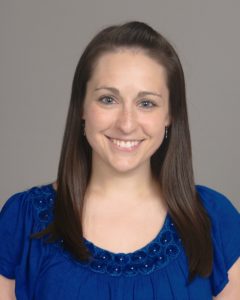 As a child, I witnessed first hand how a physical therapist had strong and powerful impacts on a person's life. When my grandfather was diagnosed with cancer, he reached a point where he could not even sit up on his own in bed. His physical therapist worked with him for several months until he was able to walk and do everything independently again! I knew then I wanted to pursue a career in physical therapy so that I could also help people to achieve their goals and have such a positive effect on people's lives.
What area of PT/specialty do you enjoy treating the most?
I enjoy working with patients dealing with shoulder pain.
What's been one of the most rewarding experiences in your PT career?
I do not know if I could narrow this down to one experience because overall, since it is so rewarding to see a patient progress through their treatment and regain their mobility. It is especially gratifying to see a patient go from using an assistive device such as a walker, to be able to walk independently.
What advice would you give patients about when they should see a PT?

I would tell patients to come to physical therapy soon after an injury as opposed to waiting until it becomes a chronic issue. It is much easier to treat a problem in a more acute or sub-acute state. This is because as an issue becomes more chronic, other areas of the body tend to be affected and the rehab process can be more challenging. Coming for physical therapy earlier usually results in a quicker rehab and you can get back to doing what you love sooner.
Give 3 words to describe your work at Advanced Physical Therapy…

Fulfilling, Enjoyable, Exciting